---
Join the best at the world's most important trade fairs, the K 2022 and the Wire 2022!
From the 9th to the 13th of May 2022, Cabopol will present their international offerings on the world's leading technical event for the wire and cable industry. The Wire 2022 will take place in the Düsseldorf Exhibition Centre where is expecting more than 1.400 exhibitors from all over the world.
And from the 19th to the 26th of October 2022, Cabopol will be present at the world´s no. 1 trade fair for plastics and rubber. As usual, the K will take place in the Düsseldorf Exhibition Centre where is expecting more than 3.000 exhibitors.
On both tradeshows, visitors will be able to find out more about our whole portfolio. From LSZH compounds for low voltage power CPR, photovoltaic, optical fibres and TPU/TPE compound for electric vehicles charging cables to our brand-new Eco-Solutions.
We are pleased to welcome you at our stands.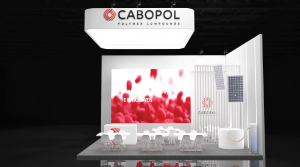 septembre 22, 2021
---
In the last few years, no polymers have made greater progress than TPU & TPE. As demand for high performance cable expands, Cabopol decided to launch his new Lacoflex TPU & TPE variations into the market. The Lacoflex TEC TPU compounds are specially formulated to ensure a good processability and are the result of Cabopol's extensive commitment in developing innovative compounds with increased safety performance. These compounds can be used in different applications, from mining cables, charging cables and industrial cables up to 125ºC rating automotive wire. They present excellent Hydrolysis resistance, mechanical properties, UV protection, and flame retardancy. The new Lacoflex TEC TPE can be low halogen, halogen free flame retardant, or even with no flame retardancy, depending both on standards and client requirements.
juin 22, 2021
---
For Cabopol, the International Leading Trade Fair for the Wire and Cable Industry has always been an important platform to meet customers, to present innovative solutions and to learn about trends of the industry.
This year, the exhibition was postponed to December due to the Corona pandemic, and now, the event has been cancelled.
To protect our employees, customers, and business partners, we are currently applying strict hygiene and safety measures. As it should be, health and safety, are our top priorities. Therefore, we are convinced that in the current situation, the cancellation of the trade fair is the best decision to ensure the well-being of all the people involved.
However, our sales team will be at your complete disposal and gladly to inform you of our latest solutions and provide you with the best possible support.
Until the next Wire & Cable, stay healthy!
novembre 10, 2020
---
With emerging 5G wireless infrastructures and growing antenna market by hybrid cables, Fiber Optic Networks remains one of the hottest topics across the globe and for that Cabopol has continuously developed new variations of our halogen free low smoke solution.  Our latest development, the Sofiplus one 01OFO, is perfect for dry and gel OF constructions. Customers are very satisfied with high speed up to 1000m/min achieved as example with 12 bundle fibers construction. Solutions are also available for tight buffer, high gel resistance buffer, jackets UV, stress cracking resistance and CPR meeting solution Cca.
août 25, 2020
---
The world is experiencing a global threat of public health, that we had never faced before, and with which we are all learning to deal with. Rest assured that Cabopol activities are fully operational in all our locations, thanks to the support, professionalism, and the innovative thinking of all our colleagues and partners. Since the beginning of the outbreak, Cabopol, as a responsible company, took all steps within its reach to help stop the spread of the Coronavirus, by closely following and applying recommendations published by the World Health Organization. Furthermore, Cabopol is closely monitoring government reports in the countries in which we operate, to proactively update our procedures accordingly.
Some of our active measures:
Apply social distancing (must be at least two meters indoors)
Limiting face-to-face interactions if possible
Avoiding all types of business travel
Cleaning and disinfecting worksites
Hand hygiene
Respiratory label
Use of individual protection
Self-monitoring of symptoms
Information (posted at various locations)
These are unprecedented circumstances, but we believe that together, we will overcome this situation.
juin 16, 2020
---
Messe Düsseldorf GmbH is postponing the number one international trade fairs for the wire, cable, tube and pipe industries – Wire and Tube Düsseldorf. With this action, they are following the recommendations of the Health authorities.
Cabopol, is closely following and applying recommendations published by the World Health Organization and as a socially responsible company, Cabopol believes this was the best decision the organizer could take. This way we can protect the most important asset of our companies, our employees and business partners.
The new date has been set from 7 to 11 of December 2020 at Düsseldorf Fairgrounds.
At Cabopol, we are eager for this date to come, so that we can amaze you with our latest solutions and developments.
We are pleased to welcome you at our stand at Hall 12 / A02.
We look forward to seeing you there!
avril 24, 2020
---
Rejoignez les meilleurs au salon le plus important au monde pour l'industrie du fil et du câble.
Du 30 Mars au 3 Avril 2020, Cabopol présentera ses dernières solutions et développements sur le premier événement technique de l'industrie du fil et du câble au niveau mondial. Wire 2020 aura lieu dans le parc des expositions de Düsseldorf, où attendent plus de 1 440 exposants.
Les visiteurs pourront mieux connaitre toute la notre gamme des solutions disponibles. Des les HFFR pour la CPR à basse tension, les télécommunications, les fibres photovoltaïques et optiques aux TPU / TPE pour les câbles de charge des véhicules électriques et bien plus encore!
Nous sommes heureux de vous accueillir sur notre stand au Hall 12 / A02.
Nous avons hâte de vous rencontrer là-bas!
février 5, 2020
---
Vous êtes fabricant ou distributeur de câbles? Savez-vous que la législation CPR appliquée aux câbles sera bientôt modifiée?
Cette situation et bien d'autres seront discutés lors de la prochaine conférence «Présence et futur de l'application du règlement des produits de la construction d'un câble», le 19 février, dans les installations du CEIS à Madrid.
Cabopol parrainera cette conférence et fera également partie de la conférence, étant l'un des conférenciers notre Directeur Global pour la Technologie et Développement Commercial.
Nous sommes heureux de vous accueillir! Pour plus d'informations, veuillez suivre le site ci-dessous:
---
Cabopol sera présent au salon K2019, bien connu sous le nom de «Salon professionnel mondial du plastique et du caoutchouc». L'événement est prévu du 16 au 23 octobre 2019 à Düsseldorf, Allemagne. Plus de 3000 exposants de plus de 60 pays se sont inscrits pour participer.
Au salon, Cabopol présentera des composés innovants qui contribuent à des produits et technologies d'haute performance destinés pour les secteurs de l'automobile, du fil et câble, de la chaussure, de la construction, de l'emballage et de nombreuses autres industries sur le marché européen.
Nous sommes heureux de vous accueillir sur notre stand E26 dans le Hall 5 du 16 au 23 octobre 2019.
septembre 11, 2019